Buyers' Agents
Acquiring property and holding for the long term has always been one of the best ways to grow your wealth, whether it's your own home, investment or business premises. But we all know that some properties perform better than others.  

It takes superior market insight to consistently choose the right property in the right place, at the right time.  That sort of knowledge involves months, even years, of careful research. It also takes hands on experience, plenty of time and established networks to find properties that match needs.

Erskine + Owen are one of New Zealand's first dedicated buyers agents, licensed under the REAA 2008. We work with people who want to buy property in New Zealand but don't have the time, knowledge or experience to do it themselves. We don't represent vendors or developers and have no property to sell. We represent our clients and, working to their customized brief, go out and find the right property for them.

If you are looking for someone to help you with your next property purchase make sure you know the difference between a Buyers' Agent and Property Finder, along with the services they offer.
Knowledge
We have deep market knowledge so that buyers can make smart decisions quickly, without all the hard work. Our extensive market research, means we know the best places to buy. Our property experience, networks and presence in the market place provides us with a greater listing access.
We're different to sales real estate agents
We work for the buyers, not the sellers. Our unique blend of skills allows us to offer a true end to end solution. The result is optimum acquisitions.  The table below shows in orange what a typical Buyer's Agent might do. At E+O we do this work, and a whole lot more, as the boxes in blue highlight.
Key
Orange = work of a typical Buyer's Agent, and of E+O
Blue = Additional services offered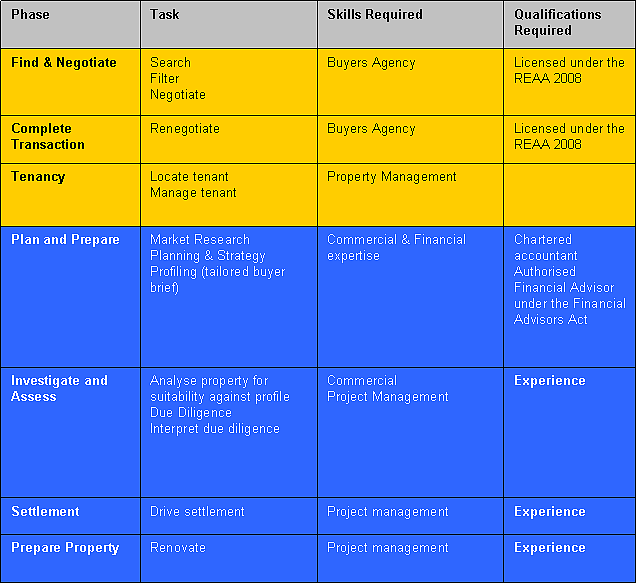 For more information about Buyers' Agents check out these articles:
Are Property Finders the same as Buyers' Agents?