Hong Kong 26 September 2017
New Zealand Property Market Update

As buyers' agents we offer a unique viewpoint on NZ property. Join our Director Alan Henderson, for a detailed report on the current state of the market.
When should you invest… and where?
If you are a property owner, or intend to become one, this presentation will help you make better decisions to protect and generate your property wealth.
Tuesday 26 September 2017 at 6.30pm

In conjunction with NZ Society of Hong Kong, central location TBC.
Spaces are limited, bookings essential. info@erskineowen.co.nz
Highlights
Will the loan-to-value ratio (LVR) restrictions be lifted any time soon?
What impact has the 40% deposit requirement had on the market?
How will new lending criteria affect offshore investors (including Kiwi expats) with an overseas income?
How likely is it that the proposed debt-to-income ratio lending policy will be introduced – what will this mean for investors?
What's the status of Auckland's Unitary Plan and will this be the answer to the supply/ demand imbalance?
Trump, Brexit – how resilient is the NZ economy to international pressures?
What will happen to interest rates?
What are the key ingredients for successful long-term investment?
Is Auckland still the best place to invest, or should you consider other cities?
What are our top picks for areas in NZ with high capital growth?
The NZ general election is looming (23 September) we will discuss the outcome and impact on the market.
About Erskine + Owen
We are one of New Zealand's first dedicated buyers' agents, licensed under the REAA 2008. We're passionate about helping our clients buy great property. Buyer's agents are a relatively new concept in New Zealand, but common in Australia, the US and the United Kingdom.
E+O provides a turnkey acquisition solution that includes investment planning, mortgage brokering and hands-on sourcing of property. We work alongside clients to help them achieve their long-term goals, which most often comprises growing a wealth base to enable a passive income stream later in life.
About the presenter
Alan Henderson is a Chartered Accountant, Authorised Financial Advisor and licensed Agent under the Real Estate Agents Act 2008.
Over the last 15 years of advising property buyers he has partnered with many clients to help them build high-performing property portfolios, through strategic planning, asset structuring, feasibility of development projects and portfolio performance review. He does this by drawing on his own personal experience of successful property investment for the past 20 years.
Bookings Essential. Spaces are limited!
Previous events…
March 2017, in conjunction with the NZ Society of Hong Kong
In March 2017 Erskine + Owen Director, Alan Henderson, gave a New Zealand Property Market Update in Hong Kong. Alan is an expert with long experience helping clients build wealth and develop passive income streams through sound property investment strategies.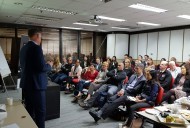 This evenings presentation covered a number of topics; the 40% deposit requirement for investors, debt to income cap, rising interest rates, shrinking supply and tougher lending requirements for offshore investors.
If you're a property owner or want to become one, these presentations will give you the in-depth, up-to-date information you need to make the best decisions about growing your property wealth.
For upcoming New Zealand Property Market Updates, sign up to our newsletter.